The following are guidelines on the safest and most efficient ways to store your items:
Make the best use of your space by stacking to the ceiling. To do this safely, pack heavy items at the bottom of the boxes to provide a stable base, then place the heaviest boxes at the bottom of the stack.
Plan to keep your more frequently used items at the front of your unit for easy access on those occasional retrievals. Load these items last!
Don't overload. Packed boxes should not weigh more than you can comfortably lift. And, you'll want to make sure the box remains "square" and not bulging at the top or sides, in order to keep them stable when stacking.
Many stored items can be made smaller – like bed frames, tables, etc. - by disassembling them to make more useable space.
Have plenty of moving supplies in advance - boxes, tape, padding, and packing materials.
Using high-quality tape with excellent adhesive pays off when it comes to keeping your boxes sealed and mintaining their integrity.
Typically you need four small to medium-size boxes for every one large box. Use the smaller boxes for heavy items, like books and dishes, the large boxes for lighter items, like bedding, blankets, and linens
Clothing boxes are not only good for hanging your good clothes, but also for drapes and other fabrics
Label all boxes to take the guess work out of it later
It's not a good idea to used plastic garbage bags for storage. Items can get squished, dinged, ripped – and worse yet – full of mildew from lack of ventilation. Using the right boxes and packing materials will help protect your goods.
Make sure you mark which side is up on items like glassware, picture frames, and lamps that can easily be damaged.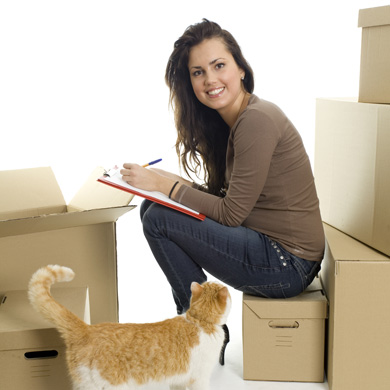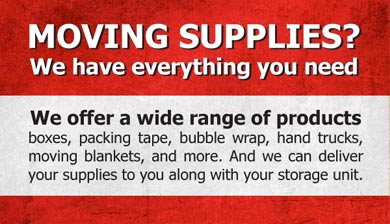 For items and pricing, see our SUPPLIES PAGE.